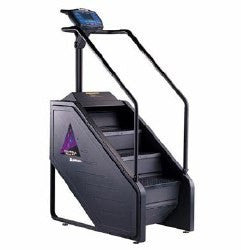 StairMaster 7000PT Stepmill
StairMaster 7000PT Stepmill - Refurbished 
This product is "Out of Stock" for now but you might like these:
StairMaster 8 Series Gauntlet w/ 10" Touch Screen
---
Stairmaster 7000pt Stepmill takes care of cardiovascular and lower body workout quite effectively. The experience is just like climbing actual stairs, as the machine is a revolving steps platform. The steps are eight inches high, and the user has the ability to control the stepping speed from 24 steps per minute, up to 162 steps a minute. This stepmill provides six workout programs that are oriented towards specific goals. For instance, there is the HR Zone Trainer, which focuses on controlling heart rate, while the Fat Burner program helps to reduce excess fat in the body.