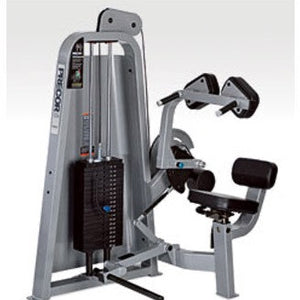 Precor Abdominal Crunch
This product is "Out of Stock" for now but you might like these:
Fit4Sale/BodyKore Rotary Torso
---
Precor Abdominal Crunch - Reconditioned
The Icarian selectorized line by Precor offers sturdy, commercial quality, professional strength equipment that is built to last through thousands of repetitions. The Icarian Low Back features a simple back pad adjustment and a multiple position footplate that ensure comfort and accommodation for most users.
Precor's Icarian Strength Line is a rugged and versatile 23-piece variable resistance strength training circuit. The Icarian Strength Line makes it easy for everyone to begin and progress. Attention to bio-mechanics, comfortable touch points, and easy-to-use adjustments let users of all fitness levels experience smooth, fluid motion.
Dimensions: 51" L x 35" W x 53" H 
Weight Stack: 280 lbs