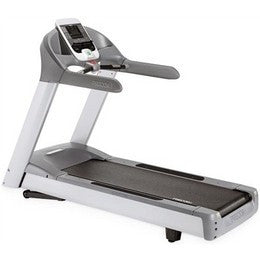 Precor 966i Experience Treadmill
---
ATTENTION: Due to high demand of "Used" products at this time, the availability may be limited due to low supply in the market and is subject to changes daily

EMAIL OR CALL DIRECT FOR UP TO DATE AVAILABILITY

---
Precor 966i Experience Treadmill - Reconditioned

The 966i treadmill is one of the top of the line used commercial treadmill for fitness facilities, renowned for its performance and durability. Equipped with Integrated Footplant Technology™ (IFT) and Ground Effects® (GFX) impact control system, the 966i delivers a smooth and natural feel when running or walking. Buy these Precor treadmills on sale for your gym and save! This is a top of the line commercial treadmill on sale at a huge discount.
Ground Effects® Impact Control System 
Easing wear on the knees, legs, and back, the unique suspension system cushions impact and controls lateral motions while remaining responsive.
Length 88 in (224 cm)
Width With handrails 35 in (89 cm)
Height 64 in (163 cm), with PVS 80 in (203 cm)
---
We Also Recommend
---