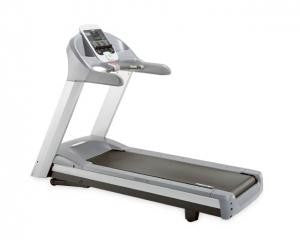 Precor 954i Experience Treadmill
---
ATTENTION: Due to high demand of "Used" products at this time, the availability may be limited due to low supply in the market and is subject to changes daily

EMAIL OR CALL DIRECT FOR UP TO DATE AVAILABILITY

---
It's the cardio line that users have enjoyed time and time again. The Experience  Series features a console that provides clear visuals and a familiar layout that makes it easy for users to explore a variety of satisfying workouts. 
Built to withstand the rigors of a broad range of environments, The Precor 954i is best for less supervised facilities such as hotels, corporate gyms, apartment complexes, or fire departments. 
The 954i delivers a smooth and responsive running performance with the added benefit of Integrated Footplant Technology™ (IFT) and Ground Effects® (GFX) impact control system. Built with exceptional durability, comfort and ease-of-use to meet all exercise goals.
Streamlined LED display: 
• Durable dome switches:  tactile response 
• Heart Rate Monitoring 
• 6-7 programs
Advanced LED display: 
• Tap Control:  tactile response with audible click 
• SmartRate® 
• 13 programs
*****
Inches (LxWxH) 88 x 35 x 64
Incline range: 0% - 15% in 0.5% increments
Ground Effects® Impact Control System
Integrated Footplant Technology™
0.5-12 mph / 1-20 km/h
4.0 hp AC motor with IFT
Streamlined LED display
Standard Console Specifications
Display Type Streamlined / Advanced LED Display
Machine Controls Tactile Dome Switches / Tap Control
Numeric Key Pad Standard
Units Selection Metric and U.S. Standard
Languages English, French, Dutch, German, Italian, Portuguese, Russian, Spanish
CSAFE Enabled Standard
Reading Rack Standard
Personal Viewing System Optional - 12" PVS
Entertainment Cap Optional - 800/900 MHz
iPod® / iPhone® Compatible Optional - Personal Entertainment Player (PEP)
---
We Also Recommend
---