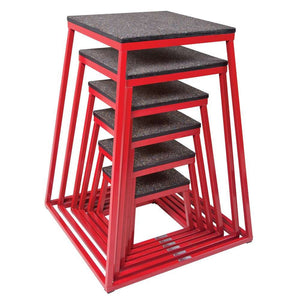 Plyo Boxes
---
ATTENTION: Due to high demand of "Used" products at this time, the availability may be limited due to low supply in the market and is subject to changes daily

EMAIL OR CALL DIRECT FOR UP TO DATE AVAILABILITY

---
Great for Crossfit Workouts!
These plyometric boxes provide maximum stability and durability with their steel construction and fully welded frames. Any athlete can use these boxes for forward jumps, lateral jumps, and other plyometric drills. Available in multiple heights for developing reaction time and overall explosiveness. 
*****
Available in sizes 6",12",18",24", 36", and 42" boxes.
*****
---
We Also Recommend
---