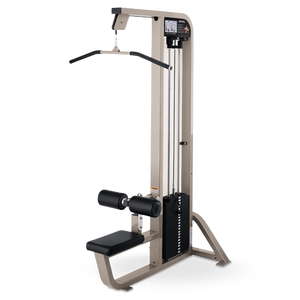 Life Fitness Pro 2 Lat Pulldown
This product is "Out of Stock" for now but you might like these:
Fit4Sale/BK Lat Pull Down/Seated Row
---
Life Fitness Pro 2 Lat Pulldown -  Reconditioned
Pro2 Series is strength equipment that stands up to the countless demands of people seriously dedicated to getting the most out of life. Your facility, your exercisers, your trainers, everybody will appreciate what this tough equipment and its smart bio mechanics and reliable features can do. Pro2 Series Strength - it's fundamental to any facility's strength offering. Convenient, easy-to-use Pro2 seat adjustments firmly lock seat into place keeping your users in safe, stable training positions at all times. Simple-to-follow, instructional placards integrated into the design of each Pro2 Series machine illustrate proper use and muscles trained. Weight selector pin magnetically locks in place and is conveniently connected to the weight stack with a flexible, coated coil to prevent pin loss.
Dimensions: 54" L x 33" W x 89" H