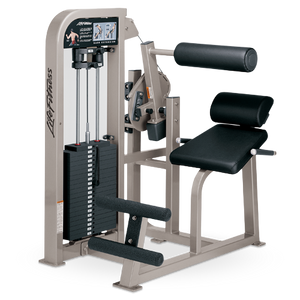 Life Fitness Pro 2 Back Extension
This product is "Out of Stock" for now but you might like these:
---
Life Fitness Pro 2 Back Extension -  Reconditioned
The Life Fitness Pro2 SE Seated Leg Extension is part of the most versatile lines of selectorized single station equipment available in the industry. The Pro2 SE line boasts primarily welded construction for durability, adjustments that can all be made from the users exercise position and most of the best biomechanics available. It's designed to fit a broad range of users from 4'10" to 6'6". The exercise movements are machine defined and are suitable for all levels of exercisers. All adjustments on the Pro2 SE Leg Extension are accessible from the seated position. The standard adjustable start position on Pro2 SE provides five positions for individual preferences.

Dimensions: 47" L x 41" W x 64" H 
Weight Stack: 295 lbs