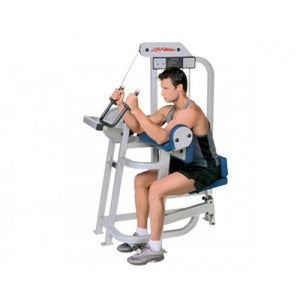 Life Fitness Pro Triceps Extension
---
ATTENTION: Due to high demand of "Used" products at this time, the availability may be limited due to low supply in the market and is subject to changes daily

EMAIL OR CALL DIRECT FOR UP TO DATE AVAILABILITY

---
Buy this remanufactured and nobody will know you didn't buy it brand new. Discount fitness equipment keeps our customers coming back for more.
Elbow side supports maintain proper alignment
Pivoting handle automatically adjusts for user's forearm length
UNSTOPPABLE PERFORMANCE
Pro: Top-of-the-line. Unparalleled. Unmatched. This is the embodiment of the Life Fitness Strength Pro Series.
Superior upper body, lower body, and multi-use selectorized machines that deliver unequalled exercise variety and
performance — day in, day out. Built to last, this complete line offering is engineered with the expertise that has
made Life Fitness a global leader in advanced strength equipment. For maximum results, more exercise options,
and a facility that nearly runs itself, choose Pro Series. Unstoppable performance beyond all boundaries.
PROVEN
With over 60,000 machines installed worldwide, Life Fitness Pro Series has proven itself in the
most demanding situations. Our unbeatable reliability comes from using only the highest
quality components. Stainless steel in high-wear areas to eliminate rusting, thermoplastic rubber
grips for extreme durability, and internally lubricated cables to ensure long life. Our
self-lubricating weight stacks use sealed bearings to guarantee quiet and smooth use. All of this
results in the most high-performance, low-maintenance selectorized product available.
PRECISION
Precision engineered components and systems make Life Fitness Pro Series compatible with every exerciser. Workouts
are smooth and simple with quick and hassle-free adjustments, most of which can be performed right from the exercise
position. The Quick Click™ seat adjustment easily slides in 1/2" increments for a precise
fit, while the new input length adjustment on some lower body machines utilizes a balanced four-bar linkage to allow easy, onehand
pad adjustments. Our precision technologies are precisely what you and your exercisers are looking for.
PREFERRED
It's the thought behind the design that makes Life Fitness Pro Series so popular with users. Every product feels right because we've done our homework to build
the ultimate combination of superior biomechanics, ergonomics, and easy-to-use features. Our machines provide the
broadest appeal with low starting resistance, minimal adjustments, and easyto- follow instructional placards for workouts
that invite beginners yet challenge the toughest users.
*****
TOTAL WEIGHT 450lbs 204kg
WEIGHTSTACK 190lbs 95kg
DIMENSIONS ( W x D x H ) 40 x 45 x 65 inches 102 x 114 x 165 Centimeters
FRAME
• Constructed primarily of U.S. manufactured 2" (5 cm) sq 11-gauge wall thickness steel tubing
• Each part is sandblasted prior to finish to prepare the surface for maximum adhesion
• Epoxy powder coat finish
WEIGHT STACK
• Solid steel weight plates
• Top weight plate is fitted with self-lubricating and self-cleaning bushings
• Low-friction bushings contained in each plate eliminate metal-to-metal contact between plates and guide rods
• 7/16" (1 cm) diameter weight selector pin magnetically locks in place and is connected to stack to prevent loss
• Shock-absorbing durable rubber bumpers under each stack reduce vibration
• Weight stack is guarded on back to prevent inadvertent contact during use
SEAT AND LEVER - ARM ADJUSTMENT
• Most units use a Quick ClickTM ratcheting seat adjust system which adjusts in 1/2" (1 cm) increments
• Some back pad adjustments are spring-loaded, adjusting from the exercise position
• No metal-to-metal contact reduces friction for easier adjustment and increased life
• Lever-arm adjusters use a patent pending four-bar linkage mechanism and adjust in three positions
CABLE AND PULLEYS
• 7 x 19 strand construction, lubricated, nylon-coated cable with breaking strength rated at 4200 lbs (1909 kg)(meets U.S. military specifications)
• Consistent cable tension adjustment located on top weight; only two standard 3/4" (2 cm) open-ended wrenches required
• 4 1/2" (11 cm) and 6" (15 cm) diameter fiberglass-impregnated nylon pulleys with sealed bearings
• Interface between cable and pulleys are guarded with covers
*****
Refurbished:
Free - 6 Months Labor / 6 Months Limited Parts Exchange
$299 - 1 Year for Treadmills / Ellipticals
$199 - 1 Year for Bikes / Steppers
Serviced:
Free - 3 Months Labor / 3 Months Limited Parts Exchange
$399 - 1 Year for Treadmills / Ellipticals
$299 - 1 Year for Bikes / Steppers
As-Is:
Used, As-Is equipment will not be covered under any warranties by Fit4sale.com, unless otherwise stated in signed agreement.
Click for full Warranty Details
---
We Also Recommend
---